Introducing the Video Marketing Master PLR eBook, your ultimate guide to leveraging the power of video to boost your brand's recognition and attract a wider audience. In today's fast-paced world, traditional advertising methods just don't cut it anymore. That's where video marketing steps in.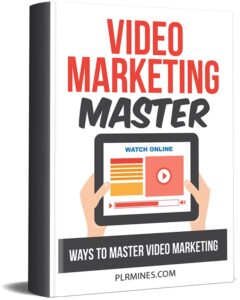 This comprehensive eBook will equip you with the knowledge and strategies needed to create compelling video content that captivates your target market. Whether you're a business owner, marketer, or entrepreneur, this resource is a game-changer for your promotional campaigns.
Discover how to breathe life into your marketing efforts by transforming static advertisements into action-oriented presentations that leave a lasting impact. With video marketing at your disposal, you'll stand out from the crowd and engage customers on a whole new level.
In this eBook, we cover the basics of video marketing, providing you with valuable insights on how to craft exciting and attention-grabbing presentations. From scriptwriting to editing techniques, you'll learn the essential skills needed to create videos that not only capture attention but also drive results.
Don't miss out on the unique opportunity that video marketing offers. With our Video Marketing Master PLR eBook in hand, you'll be equipped with the tools and knowledge to take your brand's presence to new heights. Get ready to captivate your audience and make a lasting impression with the power of video!
---
Product Price: $4.95
Product Type: eBooksLicense: Private Label Rights

Category: E-Marketing PLRFile Size:  3.40 MB