Are you tired of wasting time and money on finding the perfect rental property? Say goodbye to endless searching and disappointing real estate agents. Introducing the "Before You Rent" PLR eBook – your ultimate guide to finding the ideal home for you and your family.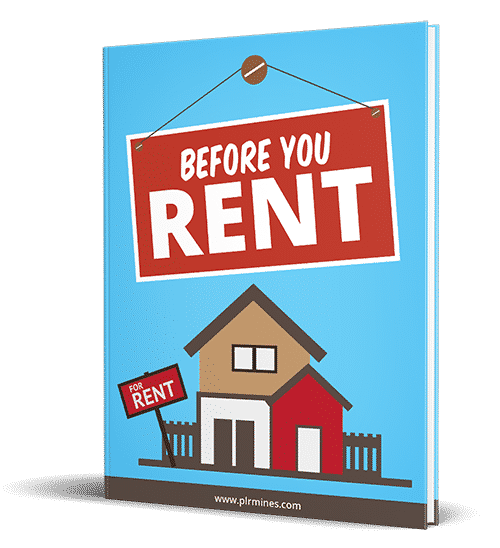 In this comprehensive guide, "Renting A House Or Apartment: First Time Renting? Here Are All The Things To Consider Before You Commit Yourself To Moving In", you'll discover step-by-step strategies to navigate the rental market with ease. Whether you're a first-time renter or looking to upgrade, this eBook will equip you with the knowledge to make informed decisions.
Learn how to effectively search for rental properties that match your needs, desires, and budget. Uncover the secrets to determining the perfect size and design for your lifestyle. Discover the countless benefits of renting a house or apartment that will make you never want to buy again.
No more guessing games! Find out where to access a wide range of rental options using online tools and local ads. Plus, gain valuable insights into crucial considerations such as lease agreements, insurance, and neighborhood research.
Why waste another minute struggling through the rental process when all the answers are right at your fingertips? Grab your copy of "Before You Rent" PLR eBook today and take control of your search for the perfect rental property. Your dream home awaits!
---
License: Private Label Rights

Category: Business PLRFile Size:  2.70 MB