Unlock the full potential of Google Meet with our comprehensive and insightful Google Meet Mastery PLR eBook.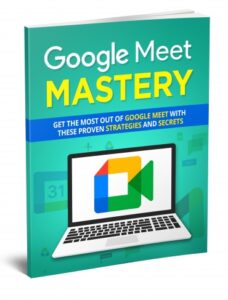 Whether you're a business professional, educator, or simply someone looking to enhance their video conferencing skills, this powerful guide is your key to mastering the art of virtual meetings.
Inside this carefully crafted report, you'll discover how to harness the most important features of Google Meet and leverage them to your advantage. No matter which device you use, our step-by-step instructions will empower you to navigate Google Meet effortlessly.
From understanding the basics of Google Meet to exploring the advanced functionalities, we leave no stone unturned in ensuring you become a true master of this platform. Learn how to set up and join meetings seamlessly, empowering you to take control of your virtual communication with ease.
Gone are the days of fumbling through video conferences or feeling overwhelmed by technical jargon. Our expertly curated guide breaks down complex concepts into digestible nuggets of knowledge, empowering you to quickly grasp and implement what you've learned.
Don't miss out on this opportunity to become a Google Meet expert. Get your hands on our Google Meet Mastery PLR eBook today and unlock a world of possibilities for efficient and effective virtual communication. Start making every meeting count with confidence!
---
Product Price: $4.95
Product Type: eBooksLicense: Private Label Rights

Category: Internet PLRFile Size:  17.1 MB