The popular website, Craigslist.com, was created by Craig Newmark in 1995 as an email distribution list of friends, featuring local events in the San Francisco Bay Area, before becoming a web-based service in 1996.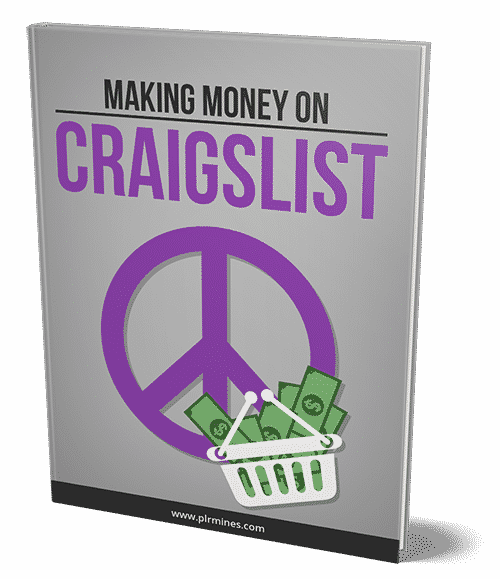 It was incorporated as a private, for-profit company in 1999 and has been expanding to cover more and more different cities since then.
Craigslist founder Craig Newmark observed people helping one another in friendly, social and trusting communal ways on the Internet via the WELL, MindVox and Usenet, and felt isolated as a relative newcomer to San Francisco. He decided to create something similar for local events.
Contents
1. What is Craigslist? ……………………………………………………………… 3
The History of Craigslist ………………………………………………………….. 3
Craigslist Today ……………………………………………………………………. 5
2. How Do I Use Craigslist? ……………………………………………………. 7
Getting Started …………………………………………………………………….. 7
Searching for Ads………………………………………………………………… 12
Posting your Ads …………………………………………………………………. 12
Tips on Ad Writing ……………………………………………………………….. 14
General Writing Tips & Using Copy for Advertising ………………….. 15
Keywords are Killer! …………………………………………………………….. 18
Organize Your Listing …………………………………………………………. 20
3. Sell Your Junk!………………………………………………………………. 22
What you can and cannot sell …………………………………………………. 22
How to Market Your Items ……………………………………………………… 24
Using Advertising Language to Market …………………………………….. 24
Combos, Bonuses and Best Offers, Oh My! ……………………………….. 25
To Sell, or to Toss? That is the Question. …………………………………. 25
Obsolete & Out of Sight ………………………………………………………. 26
Family Treasures ………………………………………………………………. 27
Is it Seasonal? Timing is Key ………………………………………………… 27
Safety Tips for In-Person Exchanges ……………………………………… 28
4. Selling Digital Content…………………………………………………….. 29
Ideas for Products ……………………………………………………………….. 29
Methods of Distribution …………………………………………………………. 29
Copyright Info and Things to Watch Out For …………………………….. 30
5. Sell Your Services ………………………………………………………………. 32
What You Can and Cannot Offer ………………………………………………. 32
Popular Areas of Service ……………………………………………………….. 32
How to Market Yourself …………………………………………………………. 34
6. To Conclude… …………………………………………………………………… 35
---
License: Private Label Rights

Category: E-Business PLRFile Size:  3.40 MB