Is so last year! Break free from the chains of addiction with our exclusive PLR eBook – a powerful resource that will guide you towards a smoke-free life. We understand the struggle because we've been there too.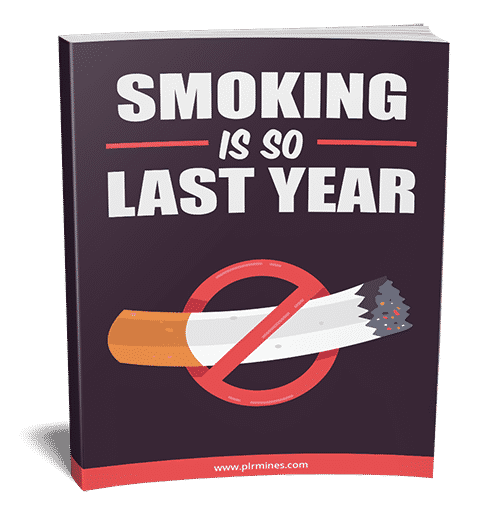 Quitting smoking is no easy task, but with our proven strategies and expert insights, you'll have the tools you need to overcome this habit once and for all.
Inside this comprehensive guide, you'll discover the truth behind addiction and why it's been so difficult to quit. We delve into the science of nicotine and its grip on your body, helping you understand the physiological and psychological factors at play. But don't worry, we won't leave you hanging there.
We offer real hope. We provide practical tips, techniques, and step-by-step methods to help you break free from smoking's stronghold. You'll gain valuable knowledge on how to combat cravings, manage withdrawal symptoms, and create a healthier lifestyle that doesn't revolve around cigarettes.
But what sets our PLR eBook apart from others? It's our personal experience and success stories that inspire us to share this life-changing advice with you. We've witnessed firsthand how these strategies have transformed lives, giving people the freedom they never thought possible.
So why wait any longer? Leave smoking in the past where it belongs. Embrace a healthier future with our Smoking is So Last Year PLR eBook. The power to quit is within your grasp – let us be your guide on this life-changing journey. Your smoke-free life starts now!
---
Product Price: $4.95
Product Type: eBooksLicense: Private Label Rights

Category: Self Help PLRFile Size:  3.60 MB