Transform your health and vitality with "The Power of Juices" PLR eBook.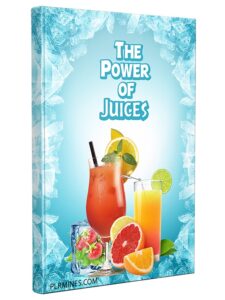 Discover the incredible benefits of juicing and unlock a world of wellness that will leave you feeling better than ever before. This comprehensive guide is your ultimate resource to understand the ins and outs of juicing, from selecting the perfect juicer for your needs to avoiding common mistakes.
Inside, you'll find a treasure trove of delicious juicing recipes tailored to address specific health concerns. Whether you're aiming to boost immunity, improve digestion, or simply increase your daily nutrient intake, this eBook has got you covered. Say goodbye to boring diets and hello to a vibrant, energized life.
Remember when your mom used to nag you about eating your veggies? Turns out she was right all along! Studies have shown that incorporating more fruits and vegetables into your diet can reduce the risk of cancer, heart disease, high cholesterol, and high blood pressure. Packed with essential vitamins and minerals, these natural powerhouses will keep you healthy and full of energy.
Unlock the secret to optimal health with "The Power of Juices" PLR eBook. Start nourishing your body with nature's goodness today and experience the transformative power of juicing. Don't miss out on this opportunity to take control of your well-being. Order now and embark on a journey towards a healthier, happier you!
---
Product Price: $4.95
Product Type: eBooksLicense: Private Label Rights

Category: Food PLRFile Size:  40.6 MB